About Max Berger Professional Law Corporation
For anyone seeking to immigrate to Canada choosing the right immigration law firm is a most important step. An immigration lawyer is the link between the client and the Canadian visa post overseas or the Canada Immigration office inside Canada.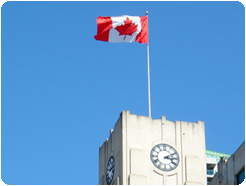 The rules and regulations governing immigration to Canada are byzantine and complex. Like a captain steering his ship through stormy waters, an immigration lawyer must likewise navigate his client through the sometime stormy waters of immigration law and just like the ship captain insure that the client reaches Canada's shores quickly, safely and comfortably.
An immigration lawyer must advise his or her client on selecting from a broad range of options that are available. The right choice may mean a speedy immigration process wherein a client can quickly and economically bring their family to Canada. A qualified immigration lawyer has the knowledge and experience to avoid lengthy processing delays, and choose the category of immigration and visa post most suitable for you.
At Max Berger Professional Law Corporation we practice immigration law exclusively. With twenty-eight years of experience and several thousand satisfied clients who have been able to start a new life in Canada, we have a broad and deep understanding of the immigration process, both in theory as well as in practice. We are able to make our experience work for you and for your family, to provide straight and uncomplicated answers to many questions that immigration clients have and, most importantly, to produce results and an immigration visa in your hands in as little amount of time as possible.
We have grown into a leading law firm one client at a time, and we service each client as though it was our only client, with attention to detail and with an understanding of how important the immigration process is to our clients' future. We are honoured to serve and represent you, our valued clients, with the highest standards of representation in Canadian immigration law.
We provide a full range of immigration services, including:
Back
Request Information
Posted by
Max Berger
on
29 Jan 2018
The Canadian Express Entry Program has only been around for a few years. In a nutshell, the program is designed to give the best applicants…
View All
Thousands of refugee cases suspended due to border agency delays