The Canadian Express Entry Program has only been around for a few years. In a nutshell, the program is designed to give the best applicants the opportunity to apply for permanent residence in Canada (an Invitation to Apply, or ITA). This involves a faster processing time (around six months) than the old program.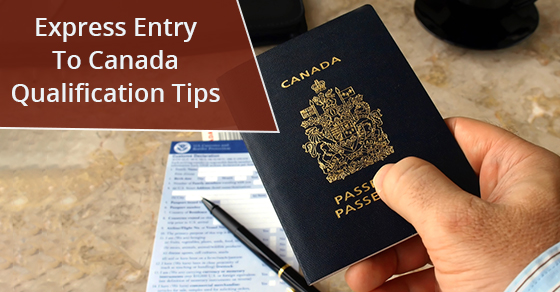 In short, all applicants are entered into a pool of applicants and selected on the basis of points. Points are awarded on the basis of many different factors, including work experience (both in Canada and abroad), education, language skills and provincial nomination via the Provincial Nominee Program (PNP), to name a few. Points are assigned using a Comprehensive Ranking System (CRS). The maximum number of points is 1200. You can read more about Canadian Express Entry on our website.
Tips on How to Qualify for Canadian Express Entry
Meet the Basic Qualification Criteria

Before you can submit your name into the pool, you have to meet the basic qualification criteria first.

Secure a Job Offer

Having a job offer in Canada will automatically award you some points according to the position. For a normal job offer a candidate will be granted 50 points and for a job offer of a managerial position the candidate will be granted 200 points towards the Canadian express entry application.

Education: Get Each Credential Assessed

Education is an important factor under the CRS. While there are many nuances to this particular factor, for those with more than one post-secondary credential, it is important to have them all assessed. The reason is that the CRS awards points for each credential, boosting your overall points.

Continue Working

As mentioned above, work experience can increase your points. While Canadian experience will award you with more points than work experience that was done abroad, the more experience the better.

Here is an example: a candidate who has scored high on language measures, and with two years of working experience, will be able to add an additional 25 points to their profile as soon as they have a third year of work experience.

Improving Language

Language is another important factor, one that is worth up to 260 points. For bilingual candidates (those who speak both English and French), it's important to ensure that you have taken language tests in both languages, otherwise you are missing out on 24 points. For those with room to improve their language test, taking a retest is recommended.

Work with an Experienced Immigration Lawyer

Immigration lawyers are on top of all developments relating to the express entry program, family sponsorship and so on. They can help you ensure that your profile is as strong as possible, and also help you avoid processing delays.
Max Berger Professional Law Corporation is a leading Canadian full-service immigration law firm, and has been since 1987. Contact us for more information on Canadian Express Entry, family sponsorship and more.
Max Berger
Max Berger is a native of Winnipeg, Manitoba and was educated at the University of Manitoba and York University. Mr. Berger is a graduate of Osgoode Hall Law School in Toronto, Canada. He has represented immigration clients from all corners of the world and in every area of immigration law.