Although you may not qualify for permanent residence in Canada, it's important to know that you still have options that are available to you.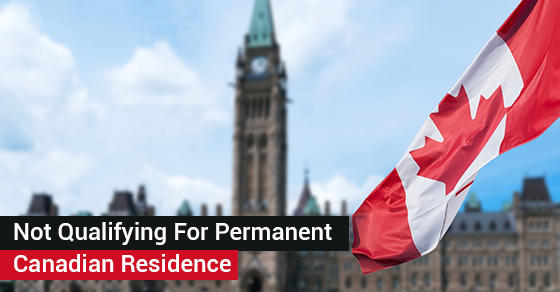 What To Do If You Don't Qualify For Canadian Permanent Residence
If you don't qualify for Canadian permanent residence status, you still have the option to fill out a Humanitarian & Compassionate Grounds Immigration Appeal (H&C). This option allows people to apply for permanent residence in Canada even if they don't otherwise qualify.
The immigration officer will take a variety of different factors into consideration when it comes to your application. These include:
Whether the applicant has family
The best interests of the children (if there are any)
Any difficulties that the applicant will face in their own country
This appeal is, however, considered to be for exceptional cases. As such, final decisions are made on a case-by-case basis.
It is also important to note that there are certain factors that are not considered for the approval of your H&C application but are in fact considered for a refugee claim.
In other words, the H&C officer does not consider risks that may exist due to persecution, risk to life and so on. Again, these factors are considered in a refugee claim.
How To Apply
Applicants only apply for an H&C application when they are applying for permanent residence status in Canada or if they are applying for a permanent resident visa from overseas.
Stipulations For H&C Applications
You cannot submit both an H&C appeal and another application like a refugee claim at the same time. If you currently have an outstanding refugee claim, it must be withdrawn. This has to be done before your hearing at the Immigration and Refugee Board (IRB).
(However, the above stipulations do not apply to people with refugee claims who also applied for their H&C appeal before June 28, 2012.)
If you have withdrawn your refugee claim or it was denied, you also have to wait 12 months before applying for an H&C application. However, there are several exceptions to this rule, which you can read about in further detail on our website.
If you are considered a designated foreign national, there are also stipulations surrounding when you can apply for an H&C. For example, you will have to wait 5 years before applying since the day you were given this title. There are additional stipulations as well, which you can read on our website here. Our site also has more information about the Humanitarian Grounds Immigration Appeal.
Max Berger Professional Law Corporation is a leading Canadian and full-service immigration law firm established in 1987. Contact us for more information.