Below you will find information regarding the process to qualify for refugee status in Canada.
In order to qualify for refugee status in Canada, you must currently live outside your home country (or the country that you spend a lot of time) and be unable to return due to the risk involved. For example, you may be at risk for being persecuted whether because of your race, religion, political views, nationality and so on and so forth. The process is as follows: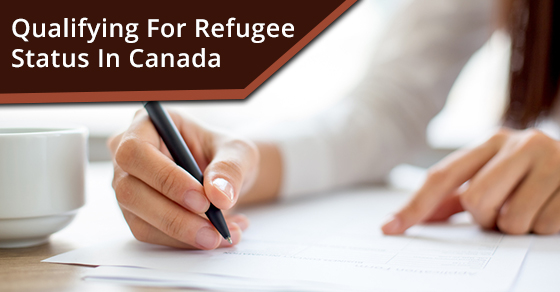 Make a Refugee Claim

The first step is to make a refugee claim. The length of time it takes to process your claim depends on the location of where you made your claim and whether your country is a Designated Country of Origin.

If your claim is eligible, as determined by immigration officers, it will be referred to the Immigration and Refugee Board of Canada. You can submit your claim at The Port of Entry (POE) or Inland CIC office. However, certain requirements must be met in order for your refugee claim to be referred. Please see below.

Determining Whether Your Claim Is Eligible For Referral

Your claim may not be eligible for further referral if:

You were deemed ineligible for referral or were outright rejected in the past

You withdrew or abandoned a claim in the past

You have been granted refugee status in another country and you can return to that country

You have protected person status in Canada

You arrived to Canada via the Canada-US border (with exception given to those who have family in Canada)

You have been involved in criminal activity or have human rights violations

You are facing a removal order

Please note that Canada also recognizes that certain individuals who currently live in Canada but who are at risk of being removed may be put in danger as a result of going back and need to be protected. If this applies to you, please see if you are eligible for a pre-removal risk assessment (PRRA) .

Refugee Hearing

30 to 60 days after you have submitted your claim, a refugee hearing will take place. Here you will be asked why you left your country, why your country can't protect you and why you would be at risk if you returned. A lawyer or immigration consultant can represent you and make a case for why you should be granted refugee status.
For more information, click here.
Max Berger Professional Law Corporation is a leading Canadian and full-service immigration law firm since 1987 that can help you get granted refugee status. For more information, contact us here.
Max Berger
Max Berger is a native of Winnipeg, Manitoba and was educated at the University of Manitoba and York University. Mr. Berger is a graduate of Osgoode Hall Law School in Toronto, Canada. He has represented immigration clients from all corners of the world and in every area of immigration law.